HOME
Stellar Data Studio
Self-Service Data Analysis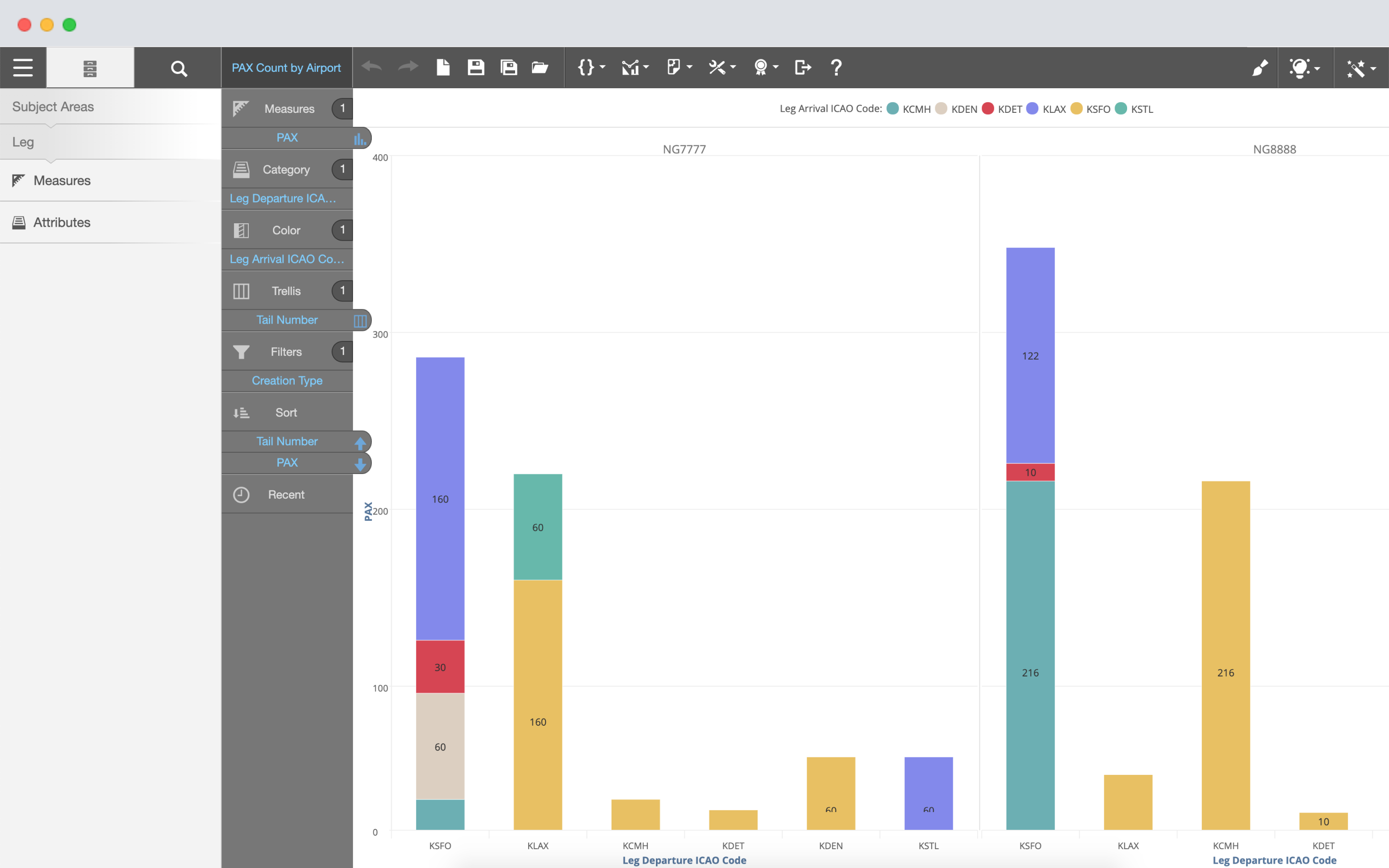 A powerful tool that enables do-it-yourself data analysis
With an interface built for non-analysts, Data Studio enables users who are seeking business insights beyond standard dashboards to ask and answer questions of their data, without any programming experience. Data Studio enables completely ad-hoc queries, so business users can quickly gain powerful insights into their data.
Data Studio extracts operational data, transforms it into an easier to understand format, and stores it in a separate data warehouse purpose-built for data exploration. The data is organized into business-oriented subject areas (such as airports, aircraft, trips, people) suitable for exploration by users of all skill levels.
"Not only does Stellar Data Studio dramatically lower the barrier to entry for business analytics, but it has the speed and power to uncover meaningful insights that can greatly improve your operations."
FRED POWELL
VP CUSTOMER & PRODUCT, STELLAR LABS
Key Features
Stellar Visualizer

Save time and react to findings faster. Stellar Visualizer is a self-service, drag and drop data exploration tool. The intuitive interface simplifies initial and follow-up question creation for accelerated turnaround.

FL3XX Integration

FL3XX data is seamlessly exported to a data mart specifically designed and optimized for analysis. Available data sets: sales, dispatch, accounting, maintenance, invoice, crew and passenger data

Automated Report Delivery

Send copies of report data to yourself and your stakeholders on a regular basis through an automated delivery schedule.

Governed Data Access

Data and dashboard access can be configured to protect sensitive data. For example, an operations team user can be configured to not have access to financial data, reports or dashboards.

Data Download

Stellar Data Studio data can be exported from a report or dashboard to Excel (.XLS), PDF or PPT form, enabling users to easily share their data across departments. Exported Stellar Data Studio data can be combined with other data sources, meaning non-Stellar Data Studio users can extract value using the tools they're familiar with.

Expert Consulting

Need help finding the variable that you want, or creating a dashboard with all the data elements that you need? Expert consulting hours are available to answer your advanced questions.